I have been talking to many women on the topic of being single. I was fascinated to learn about all of the different reactions to my question: "What is it like being over 50 and single?" Over 70% of the women said it was horrible, 20% of the women surveyed said they "Loved being single and would not have it any other way," citing that men were too much work. The remaining 10% of females were indifferent towards being coupled Post 50.
This sparked my curiosity, so I decided to meet with several women to discuss relationships. The biggest complaint I heard was that it was very tough to meet a man unless some friend or colleague makes an introduction, and most of the time they do not.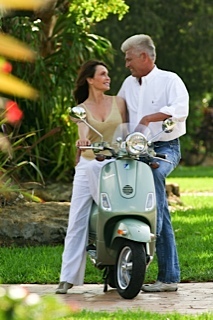 Photo credit: Jerry Hinkle

Therefore: I would like to share some of the conversations with you and then give you my input.
Angela: I travel quite a bit, and have met some wonderful and interesting men, but it never goes anywhere. I am becoming very insecure because of my age.
Connie: I have been all alone for sometime now and I do go out socially with the intent of meeting the special one, but guess what? Even when a man does pay attention to me I'm not interested. I am now lonely and fearful that I want a man, but then my hormones and age prevent me from being available.
Nikki: My problem is that at one time in my life I was exposed to a generous life style and therefore I continually try to duplicate that life style. I cannot accept a man unless he has money that may not happen again for me, so I am continually conflicted. I feel I need to see a psychologist about this which puts even more extra drama in my life.
Joyce: At 50 I was still fine, but when I retired I became even lonelier. You don't have a place to go, maybe you want another job or maybe it's time to get serious about a man. If you were already accomplished and have presence in life along with certain values, then you would desire someone with the same values, a secure man, not a playboy. It is scary. Thank God for my girlfriends, I adore their friendship. Girls must stick together!
Kat: Dating over 50 is something like this- you have less time ahead of you than you have behind you, and the feeling of urgency can sometimes push you to leap before you look. Internet dating is that leap. I find it interesting that every man on the internet dating sites (Ourtime.com, Match.com) no matter what they look like, is looking for a slender, athletic woman. Every woman on the other hand, is looking for a man that can be the companion without strings that she never had while married. I don't want to be without companionship for the rest of my life, but I am also comfortable if that happens.
Cookie: Are you kidding? I love to be by myself. I don't mind having a man in my life, but it's just too problematic.

Ladies, my first suggestion is never look back. It's like trying to scramble scrambled eggs again. Life is ever-changing and we must change with it. Of course it's wonderful to have memories and hold them close to your heart, and you should, but then you must let go, think of it as each day is a new adventure and look forward to what wonderful thing that is going to happen.
One mistake women make is going out to "LOOK FOR A MAN." You are doomed as soon as you do that and will always be disappointed. Go out to enjoy yourself and your friends and you will give off a different vibe. Men are not stupid, they do not want a desperate and overly aggressive woman. We have to be smart at this stage of our lives. Just remember men are like little boys, they want a mother, a wife, a caretaker and a sex partner. More often than not they need to feel superior. It's much harder for an independent woman to find a mate after the age of 50, if she has been successful and in power. You want a best friend at this time in your life, not necessarily a knight in shining armor. If companionship is what you really crave, Mr. Alright might fill one bill.
My second suggestion would be to consult a professional traditional matchmaker such as, Irene Valenti.
The one thing I feel is uber important is that you share the same interests. Start with that and the relationship process will become 50% easier.
Ladies, go out just to have fun and watch what happens!
Originally Published:   http://www.huffingtonpost.com/irene-michaels/chapter-4-being-single-po_b_5616960.html