From the time you get engaged to your big day, with every decision you make and hurdle you overcome, you're putting all kinds of wisdom into play. You're also fine-tuning skills that can help build a successful marriage, such as sticking to a budget, navigating family politics and knowing when to take a de-stressing break from it all. 
Apply these learning experiences from your wedding-planning journey to your future together:
1. Don't let money fights tear you apart.
Financial disagreements can strain even the happiest of marriages. According to a study by The National Survey of Families and Households, couples who argue about money once a week are 30 percent more likely to divorce than couples who report fighting about finances a few times each month. In order to protect your marriage, take your family budget seriously and be patient for those big things that you want, whether it's a new car or maybe even a baby.
If you went over-budget for your wedding (many couples do!) make it a goal to live within your means now. Start by recording everything you spend over the course of a month — and we do mean everything — in an easy program like Quicken or Mint.com. Next, see what you can take a break from or scale back on, like going out to eat two times a month instead of six. Even little things like choosing affordable cuts of meat when grocery shopping and filtering water from the tap instead of buying water bottle cases can add up to big savings.
As you may have already learned with unexpected wedding expenses, it's also crucial to have an emergency fund, especially if you own a house or car that could need pricey repairs.
2. Make time for your other favorite people — they helped make you who you are.
During the wedding-planning process, you likely involved your parents and siblings somehow, whether it was inviting them to your gown-shopping appointment, honoring your family history with a photo table, or other thoughtful gestures. During your marriage, make a plan to connect with both of your immediate and extended families on a regular basis.
If you live far away from them, set up a Sunday Skype date and send thoughtful emails or texts just to see how they're doing. Share family traditions with your spouse: holiday traditions, recipes, great stories, visits to your families' favorite places and any other insights into your family life before this new life you're sharing.
Let go of family drama. Just like a squabble over the budget or guest list may have stressed you out, family dramas can also create tension in your marriage. Stay out of the fray, forgive what you can and don't get sucked into attention-seeking ploys. Embrace the happier, more positive people in your life, whoever they may be.
3. Gratitude is essential to leading a happy life!
Just like you sent thank-you notes for wedding gifts you received, it's just as important to say "thank you" to anyone who adds light and laughter to your world during your marriage. It might be for a dinner your parents took you to, the wheelbarrow your neighbor lent you when you were putting in your garden or anything sweet your husband does for you. Everyone wants to feel that they are appreciated.
Keep a gratitude journal in which you record five things that made you happy that day. This will ensure that your mindset stays balanced even during challenging times. It makes you a happier person to be around, which is contagious!
4. The couple that plays together, stays together.
One of the biggest wishes among engaged couples planning their weddings is that the entire event be a ton of fun. A great band or DJ. Interactive food stations. Photo booths. Weddings are unforgettable experiences for guests.
Make your marriage stronger by incorporating lots of play, inside jokes, and new activities, as well as making time for the things you already love to do together. 
5. Honor each other's boundaries.
Make your marriage stronger by engaging in open communication. Rather than just saying "no" when your partner comes to you with a request or vice versa, take the time to explain why you feel this way, listen to each other and prioritize one another's feelings. You both need to understand where the other is coming from in order to make decisions that honor you and your partner's comfort level and values.
It's all about teamwork in a happy marriage, which stems from compromise and balance. Neither of you is the boss — resentments can boil over when one partner feels like they're getting overruled all the time. Come up with an agreement that neither of you should have to do something you feel strongly against or uncomfortable with, and make an effort to mix up the decision-making.
6. Stay flexible and have a Plan B just in case.
Smart wedding planning involves having a back-up plan: an indoor space for the ceremony in case it rains or an alternative bouquet in case your floral designer can't get an out-of-season bloom.
In your marriage, don't get so hung up on having things go according to your timetable that you're absolutely devastated if your original plan doesn't work out. It's not about what happens to us; it's how we bounce back.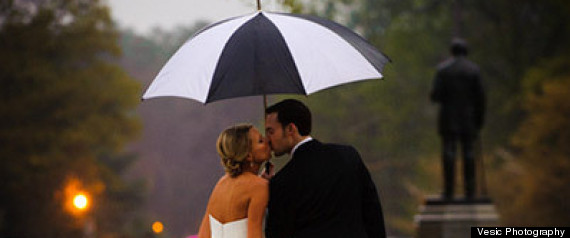 Photo Credit: Vesic Photography on Inspired by This via Lover.ly
7. Nobody wins when you try to keep up with the Joneses.
Even if your best friend had a $100,000 wedding and yours was just a tiny fraction of that, it doesn't mean that your big day was any less awesome or special. Although it's natural to get envious sometimes, it's not worth acting on by trying to outcompete or match what someone else has — many negative things can spiral out from there. 
The same goes for the home you choose to live in, the furniture you buy, the car you drive and so on. No one wants to feel like they're not doing well enough in life. So, how do you tame that green-eyed monster? Again, we're back to #3: gratitude makes life fabulous! Let the Joneses be the Joneses and you live your wonderful life filled with beautiful people and your own special touches to the things you do have.
8. The people you hire had better be good.
You put a lot of time and energy into researching, interviewing and hiring the best wedding vendors. The same goes for hiring real estate agents, doctors, contractors… the experts you can't afford to entrust your home (or your life) to without fully investigating them and investing in the best.
You know that when you hire someone without doing due diligence, you're more likely to get crummy service and bad results. You don't want that with your plumbing or your health.
9. Every now and then, get away from it all and get back to being "you."
When stress builds up, it's not pretty. You may find yourself snapping over minor things, sleeping poorly, overeating, skipping workouts, breaking out…stress is bad news for you and for everyone who loves you. Every now and then, make time to go on a vacation as part of your "happy me, happy us" plan. And even if you can't get away because of budget or time, find ways to switch up your scenery like checking out shops in a nearby town or going for a hike.
Whether you revisit your honeymoon resort, check into a quaint bed and breakfast a few hours away or even just take a day trip somewhere, the important thing is to recognize when you and your spouse are overworked from the daily grind. Escaping your to-do list and unplugging for a few hours/days will dial down your stress levels and make you better partners.
10. Be present –- it all goes by too fast. 
The wedding day passes by so quickly — one minute you're slipping that ring on your groom's finger and the next minute, the band is announcing that this is the last song of the night. You didn't even get to eat very much of your wedding menu! In your marriage, as in your wedding, make sure you stop, look around, and take in every detail.
Be fully present and you won't look back on your life saying, "There's so much that I didn't take the time to appreciate and enjoy." Enjoy every moment to the fullest.
Originally Published:   http://www.huffingtonpost.com/2014/06/16/marriage-preparation_n_5486302.html?utm_hp_ref=love-bytes